University of Szeged Congress Centre

University of Szeged Congress Centre

Social Responsibility
Social Responsibility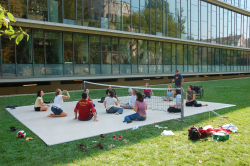 Social responsibility is an ethical ideology or theory that an entity, be it an organization or individual, has an obligation to act to benefit society at large.

The Congress Centre of the University of Szeged is dedicated to social and environmental responsibility thus we think performing activities that directly advance social goals is becoming more and more important.
In the spirit of social responsibility the Congress Centre has organized a great number of actions in recent years, for shaping the attitude and thinking of the society, building our community and we plan to do so in future.
The elite force of social responsibility: The Green Commando

For developing and strengthening the environmentally conscious behavioural culture of university units, in 2011 the University of Szeged Study and Information Centre and the Congress Centre launched an initiative called "Green Commando".
In its first year the employees of Congress Centre, the Study and Information Centre and students of the University of Szeged voluntarily joined together twice under the flag of the Green Commando in order to renew the buildings of the University of Szeged. In January 2011, the target of the first action was to turn the University of Szeged Business and Operation Management (GMF) "green", and it was successfully accomplished within two days of hard work. After that, in May a second action took place in the University Botanical Gardens, to prepare it for the first wedding ceremony held in the Gardens.

All the work was done by volunteers, and we hope the Green Commando can unite more and more people in the future under the flag of social responsibility, to carry out further noble events.