University of Szeged Congress Centre

University of Szeged Congress Centre

Venues
Lecture Rooms | Congress Centre Venues
With the highly equipped multipurpose lecture and seminar rooms the Congress Centre is among the most sophisticated venues in the Central European region.

The multipurpose Lecture Rooms easy configured to customers needs, through mobile, noise-proof dividing walls that can easily be adapted to multiple configurations.

The rooms seating 100-160 people can be used for hosting business meetings or presentations. For larger size conventions, they can be configured to accommodate as many as 200-320 guests.
Technical equipment: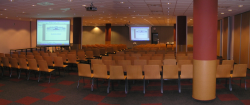 Front Projection
DVD, CD, VHS, Casette player
Laptop for presentations
Power Point slide clicker with built-in laser pointer
1 Microport
A maximum of 2 Table or Standing Microphones
Gooseneck Microphone on the lectern
Full PA System
2 ethernet ports with DHCP for internet access
Programmable Lighting (dimmable)
Aux Audio Feed for Press/TV
System compatible with any laptop
Optional: projection of the venue in the Congress Hall (with interpretation if needed)