International Relations
International Relations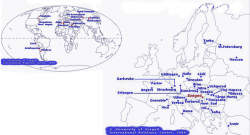 International Relations of the University of Szeged.
The University of Szeged has a widespread network of relations throughout the world. Due to its extended foreign relations, the institution also serves as an international meeting point; as it is annually chosen by nearly 2,000 students from other countries.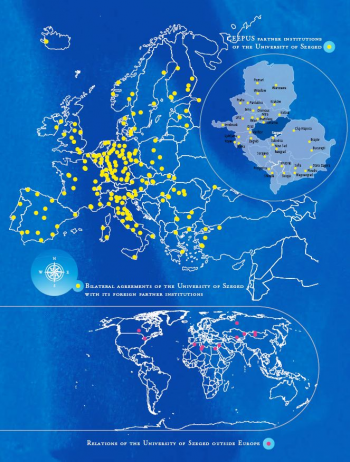 Since 1985, foreign language programs have been available for those who seek high quality education. The number of foreign students, who can choose from programs at three different levels (BA/BSc, MA/MSc, PhD), has risen by 20 % during the previous years. As a result of the widening spectrum of its programs, the University of Szeged attracts more and more foreign students from a wide range of countries throughout the world; in 2010 students came to the institution from 39 different countries.
The University of Szeged lays special emphasis on student mobility, by participating in mobility projects, during which the institution's own mobility funds are also allocated. The University of Szeged is proud to be considered as the best network university in the countryside due to the high number and quality of international scholarships available at the institution.
international scholarships cover each study field available at the university
699 bilateral agreements in the ERASMUS program: 30 countries, 266 cities, 380 partner institutions
8618 months of scholarship per year in the ERASMUS programme
2591 students participating in the ERASMUS programme since 1998
14 countries, 39 partner institutions in the CEEPUS programme
European Quality Label for student and teaching staff mobility in 2006
Equal Education Socrates Prize for the implementation and organization of mobility in 2007
listed among the top ten universities of Europe in the brochure ERASMUS Success Stories in 2008 and 2010
CEEPUS Minister's Prize of Excellence in 2010
International Cooperation Quality Award 2011

·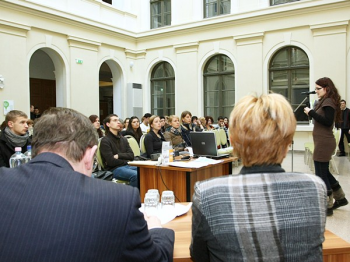 The prizes and awards received by the University of Szeged indicate that the institution deserves international acknowledgement for its promotion of student and teacher mobility. There are two outstanding prizes among these rewards given to the university, namely the International Cooperation Quality Award received in 2011 and the European Quality Label in 2006.
In the international ranking of universities, the University of Szeged has a prestigious position. Based on the number of scholarly publications, the proportion of citations, the student - instructor ratio, and the proportion of international students and instructors, the University of Szeged has a high position in the QS World University Ranking conducted by Quacquarelli Symonds. The institution holds the overall ranking position of 451-500, while in the rankings by subject, in the category of chemistry, it holds the ranking