Relying on its international partners and connections, the European Studies Centre has organised a one-week Summer University in French language since 2007. During the first two years, the programme took place in Budapest. Third time, it was organised in Paris as an exceptional occasion. The summer university welcomes some fifty students from nearly all the member states of the European Union and from the Western Balkans at the beginning of every July.
The participants attend at lectures performed by the experts of the University of Szeged and practical life. The less bounded setting provides an opportunity to ask questions, discuss and deliberate together. It is also an occasion to embark on building their own professional networks. At the end of the week, the conclusion is drawn by the attendees themselves in their workgroups.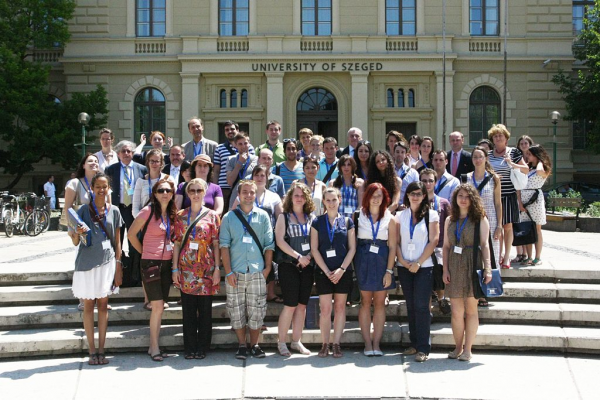 The students, who completed the summer university, are going to receive two credit points from the University of Szeged, Faculty of Law and Political Sciences. These credits can be utilized at their own universities within the Bologna system.

En coopération avec ses partenaires internationaux, le Centre d'études européennes organise depuis 2007 l'Université Européenne d'Été qui est un événement en langue française d'une semaine. Les deux premières éditions ont eu lieu à Budapest, la troisième à Paris. Cet événement organisé en début juillet accueille quelque cinquante jeunes s'intéressant aux questions actuelles de l'intégratin européenne, venant des états membres de l'Union européenne ou de la région des Balkans occidentaux. Les étudiants participent aux conférences des spécialistes des universités et de la vie pratique mais le cadre informel offre la possibilité à poser des questions, à débattre et à une réflecion commune. De plus, l'université d'été permet aux étudiants de créer entre eux leurs propres relations professionnelles. A la fin de l'événement, les participants tirent les conclusions des conférences dans le cadre des ateliers de travail. L'université d'été est sanctionnée de 2 points de crédit par la Faculté de droit de l'Université de Szeged qui peuvent être validés dans le cadre de la formation universitaire des participants.
Address:
Faculty of Law and Political Sciences
6720 Szeged, Tisza Lajos krt. 54.
Phone: +36 62 544 197, Fax: +36 62 544 204
Contact to foreigner sudents:
Prof. Dr. Attila Badó
Address: H-6720 Tisza Lajos krt. 54.
Phone: +36 62 544 197
Web:
www.juris.u-szeged.hu
E-mail:
bado@juris.u-szeged.hu