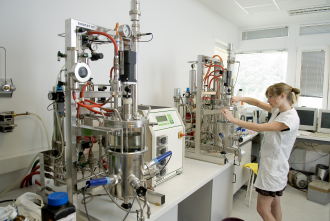 Degree: Msc
Fields of study: Molecular Biology – Biotechnology – Microbiology
Duration of the course: 4 semesters
Language of tuition: English
Description of the programme: The Molecular Biology–Biotechnology–Microbiology MSc Programme is a 4-semester-long (2 academic years) multidisciplinary programme, which is open to qualified students who hold a Bachelor's degree (or equivalent degree) from an accredited university in related fields, and have a good command of the English language. The Programme provides our students with a rigorous and challenging curriculum to succeed in their post-academic and professional endeavors.
The first year of the programme comprises lectures, seminars and practical classes in advanced genetics, molecular biology, biotechnology, bioinformatics, immunology, cell biology, microbiology and plant biology. Both the basic and the applied/industrial science aspects of these disciplines will be extensively studied. The second year offers many more specialized lectures that are tailored to the students' individual interests, but the emphasis will now be placed on practical education: the students will have several laboratory courses in different aspects of molecular biology, cell biology, biotechnology and microbiology. Each course ends with a written or oral exam. During the last semester, independent research projects will be carried out with the help of tutors from our academic staff. This project will lead to preparing an MSc Thesis that has to be publicly defended, and it is part of the MSc certificate/diploma.
The Programme's intensive, applied science-oriented education qualifies our students for a wide variety of professional work. Our graduates will find lucrative future careers in many fields including research laboratories, educational institutions, hospitals, clinics, pharmaceutical, food, agriculture and chemical industries, environmental agencies, etc. Successful graduates can also continue their studies and research by applying to our international Biology PhD program at the University of Szeged.
Application procedure
Application requirements: CV in english; BSc degree in biology, chemistry, medicine, pharmacy, agriculture, or related fields; transcript; English: intermediate proficiency level (B2) – proofs required
Application deadline: 1st June
Application fee: 150 EUR
Tuition fee: 4500 USD per semester
For further information please contact:
Dr. Karoly Gulya
Faculty of Science and Informatics
Department of Cell Biology and Molecular Medicine
Tel.: +36 62/544-570
gulyak@bio.u-szeged.hu
Website:
http://www.u-szeged.hu/biology-msc